Maria D'Angelo - Contemporary Fine Art
Create a Relaxing Environment - Bring the Beauty and Colors of Nature into your Home



Your home should be a haven: a place where you retreat to so you can relax and unwind - a respite from your workday.
Being in nature or viewing nature reduces stress, and not only makes you feel better emotionally,
but it also contributes to your physical wellbeing.

Inspired by the beauty and colors of the natural world, each of these original, contemporary paintings are created with acrylic paint. Offered on either cradled hardwood panels covered in glass-like resin or on gallery wrapped cotton canvas covered in high gloss or satin varnish.

Bring the inspiration of the natural world into your home.

Layaways Accepted

Custom orders available upon request. Wholesale inquiries welcome.
"Canyon Strata"

Strata are layers of sedimentary rock or soil that was formed at the Earth's surface. This gorgeous original 20 x 16 acrylic painting is inspired by the layers of strata I saw while visiting Utah. The painting is done on a 1 1/2" cradled wood panel and covered in resin to give it a glass-like finish. The painting covers the sides of the wood panel so no frame is needed. It is signed on the back.

20 x 16 - $350
"Copper Beech"

Inspired by the beauty and colors of the tree rings in a slab of wood. This dramatic 12 x 12 original acrylic abstract painting is painted on a cradled wood panel and covered in a high gloss resin to give it a glass-like appearance. Copper, cream, olive, and muted purple on a black background are the main colors.


12 x 12 - $220

SOLD

"Midnight Sky"

The wonder and beauty of the sky late at night. Billions of stars and galaxies twinkling in the black of night. This 20 x 16 acrylic painting is inspired by those billions of diamonds in the sky.
It is painted on canvas and covered in a high gloss varnish.
The paint flows over the 3/8" sides so a frame is not needed.

16 x 20 - $195

"Zion"

Inspired by the colors of the strata against the sky of our breathtaking National Park. This original 20 x 20 acrylic painting on canvas is coated in three layers of a varnish. The paint flows down the 1/2" sides of the canvas so no frame is needed. Bring the beauty of Zion into your home.


20 x 20 - $425

"Sycamore"

This mesmerizing, original acrylic abstract painting is inspired by the colors of the bark of my favorite tree, the mighty sycamore. It is painted on a 3/4" cradled wood panel and covered in a high gloss resin to give it a glass-like appearance. Bring the colors of the sycamore into your home.



12 x 12 - $220
"Dawn"

The Dawn Redwood is unique because it's needles turn a beautiful shade of copper and gold in autumn before they fall. This acrylic painting was inspired by the colors of the needles and bark of this unusual tree. It is painted on 3/4" cradled hardwood and covered in resin which gives it a glass-like appearance.


20 x 20 - $350

"Amethyst"

Amethyst has been highly esteemed throughout the ages for its stunning beauty and legendary powers to stimulate, and soothe, the mind and emotions. This gorgeous original 20 x 16 abstract acrylic painting is inspired by amethyst quartz. It is created on canvas that has been coated in a high gloss varnish. The paint covers the sides of the canvas so no frame is needed.

16 x 20 - $195

"Cedar"

This gorgeous, acrylic abstract painting is inspired by the colors of the rings of a cedar tree slab. It is painted on a 3/4" cradled wood panel and covered in a high gloss resin to give it a glass-like appearance.




12 x 12 - $220
"River"

Inspired by the rippling waters of a river flowing over stones that have been smoothed round by time.
This acrylic painting on canvas is covered in three layers of varnish. Like the water, the paint flows over the sides of the 3/8" canvas so a frame is not necessary.

24 x 18 - $250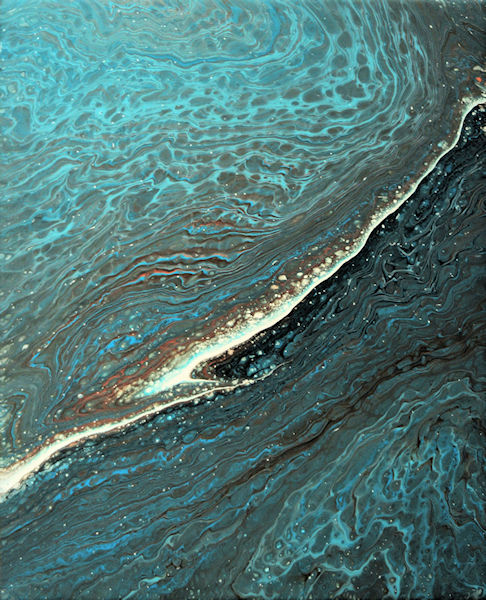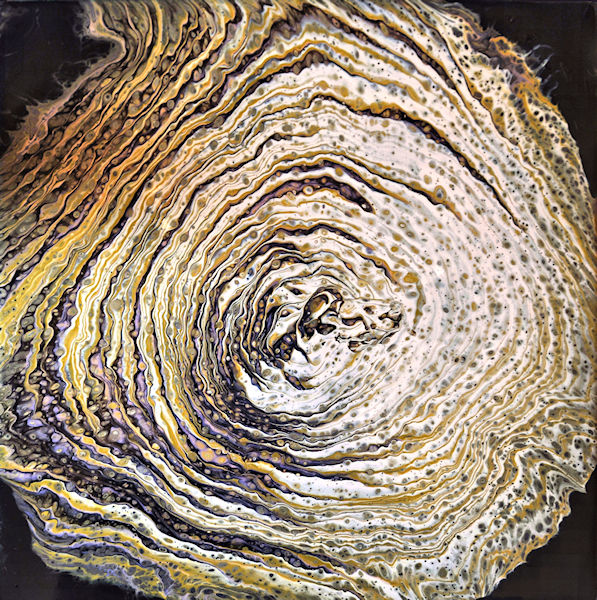 "A Distant Shore"

Bring the beauty of the sea into your home. This stunning original 20 x 16 acrylic painting on canvas is inspired by a wave receding back into the sea. The painting is coated in three layers of a high gloss varnish. The paint flows over the sides of the 3/8" canvas so a frame is not necessary. Bring a touch of the ocean into your home.


20 x 16 - $225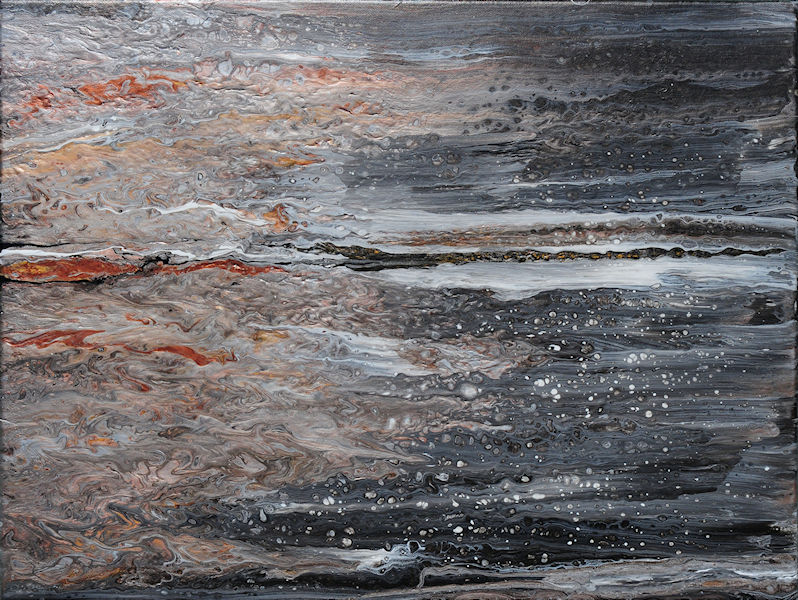 "Adrift"

Simple and organic. Black, rose gold, rust, white and gray are the colors of Adrift.
Original acrylic painting on canvas covered in three layers of satin varnish.





24 x 18 - $250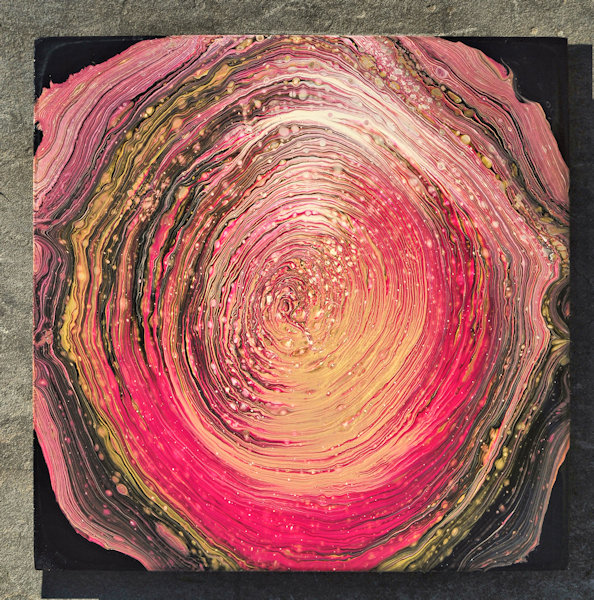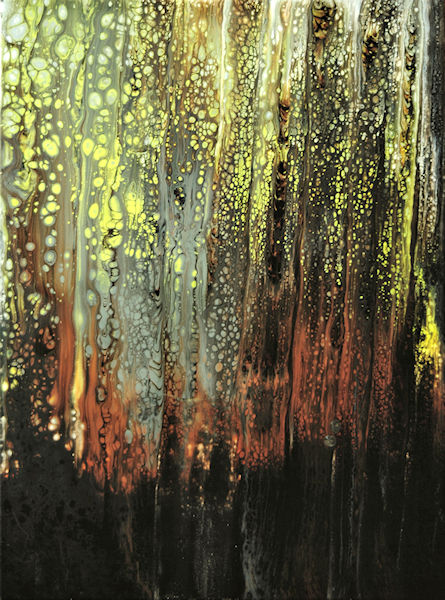 "Lichens"

I was inspired to create this painting when I saw a spattering of lichens on a thick branch in my yard. This original 24 x 18 acrylic painting on canvas is coated in three layers of a varnish. The paint flows down the 3/8" sides of the canvas so no frame is needed. Signed on the back. Bring the beauty of the forest into your home.

24 x 18 - $250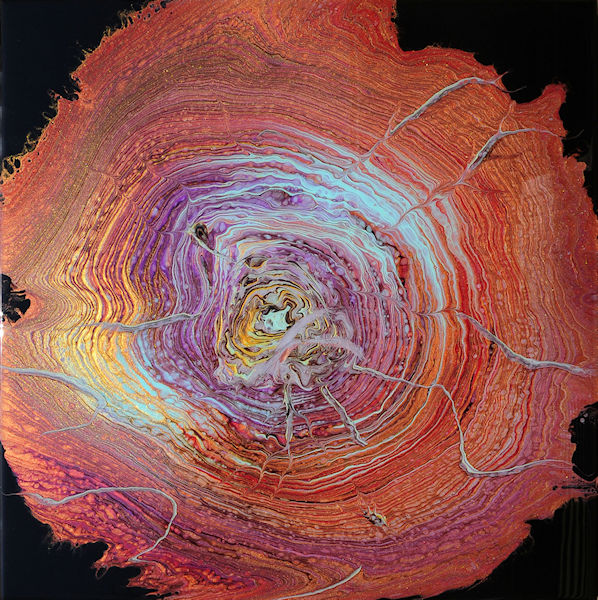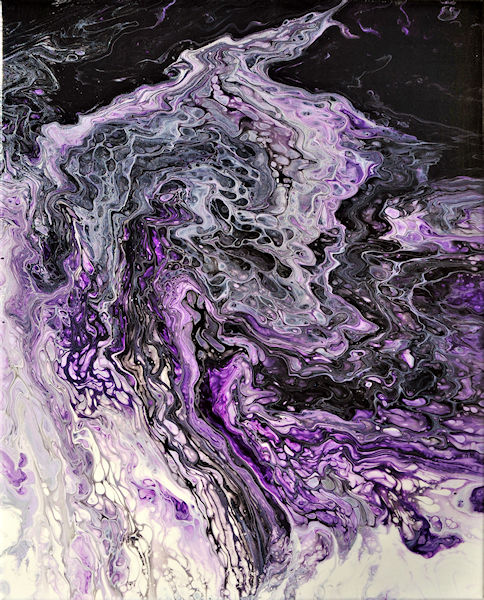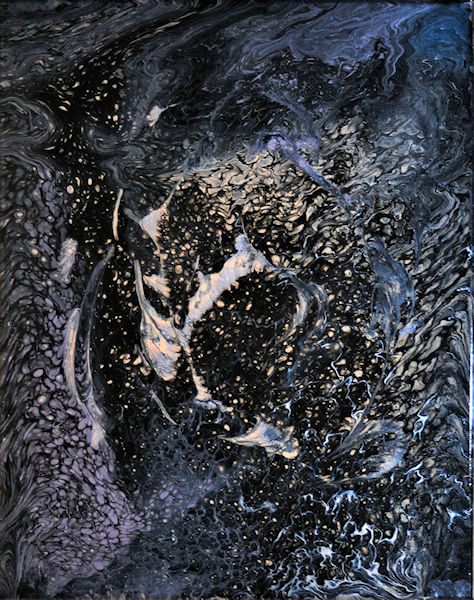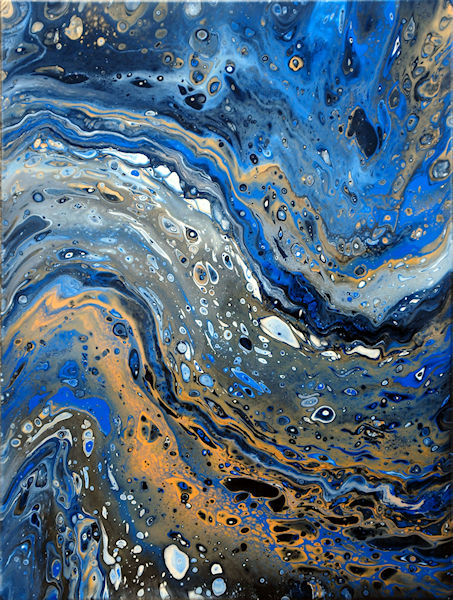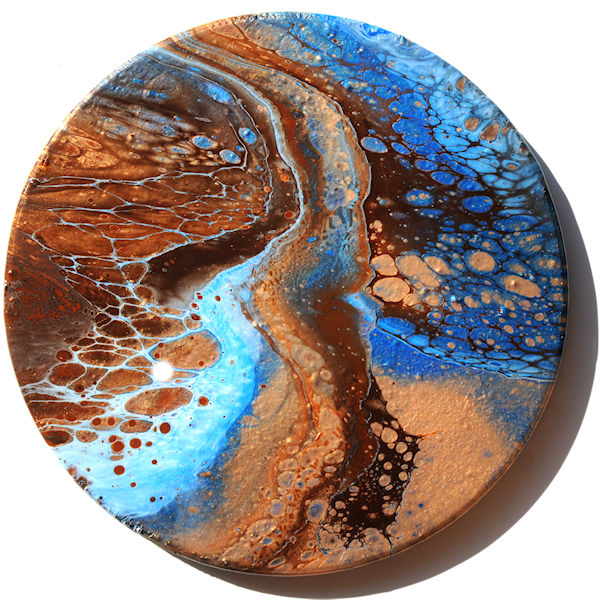 "Sunspots"

Add a pop of color to a small space. This beautiful acrylic painting is done on a 7" round wood plaque and it's covered in resin for a glass-like finish. It would look great on a shelf or desk and it rests perfectly in a plate stand.

7" - $49

"Blue Planet"

Add a pop of color to a small space. This beautiful acrylic painting is done on a 7" round wood plaque and it's covered in resin for a glass-like finish. It would look great on a shelf or desk and it rests perfectly in a plate stand.

7" - $49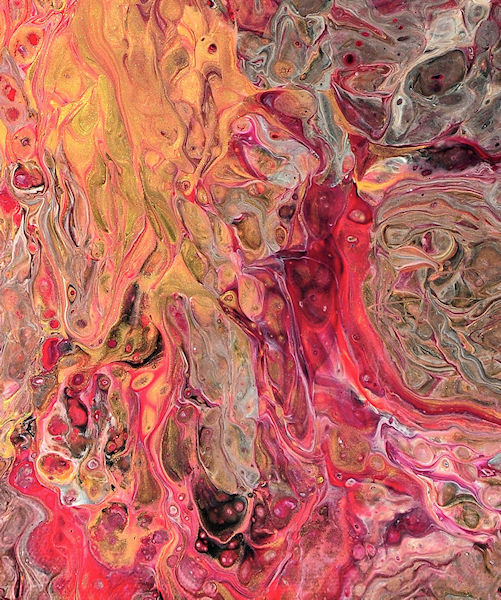 "Reflections"

Add a pop of color to a small space. This beautiful acrylic painting is done on a 7" round wood plaque and it's covered in resin for a glass-like finish. It would look great on a shelf or desk and it rests perfectly in a plate stand.

7" - $49

"Receding Waters"

Add a pop of color to a small space. This beautiful acrylic painting inspired by the receding waters in a lake is done on a 7" round wood plaque and it's covered in resin for a glass-like finish. It would look great on a shelf or desk and it rests perfectly in a plate stand.

7" - $49

"Emerald Earth"

Add a pop of color to a small space. This beautiful acrylic painting is done on a 7" round wood plaque and it's covered in resin for a glass-like finish. It would look great on a shelf or desk and it rests perfectly in a plate stand.


7" - $49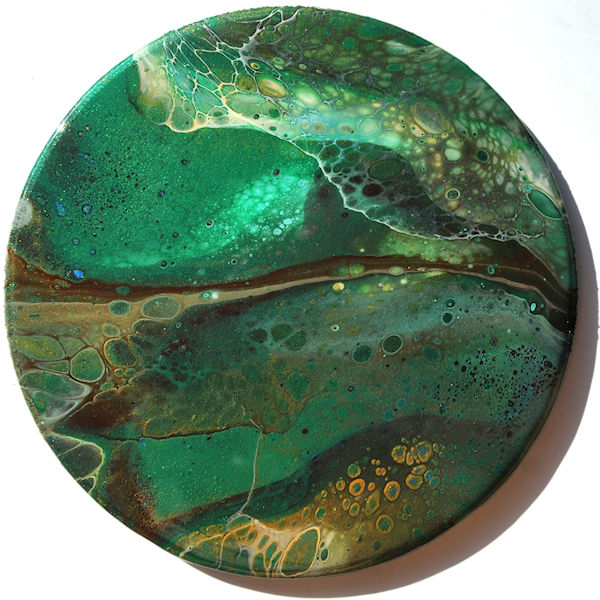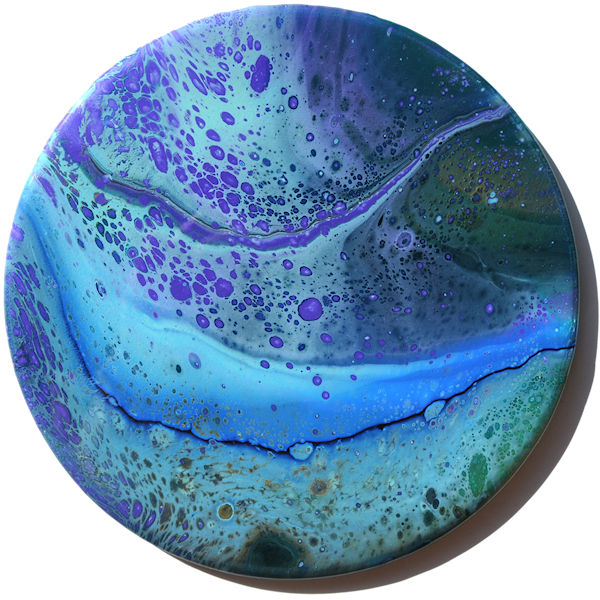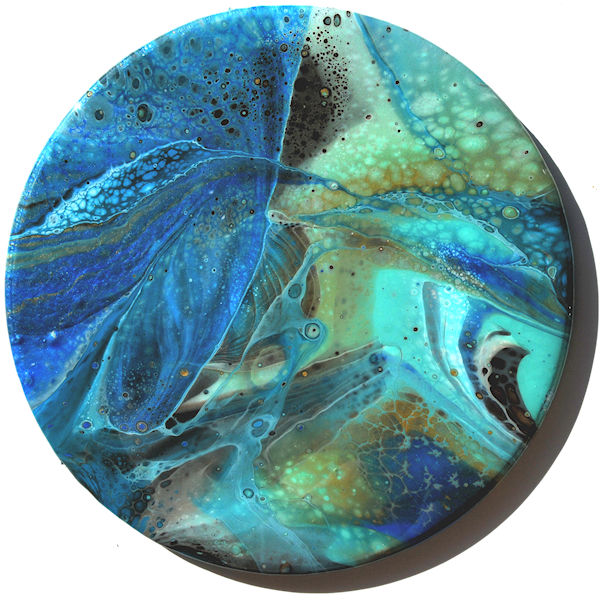 "Canyon Tapestry"

This 14 x 11 acrylic painting was inspired by the incredible colors of a slab of petrified wood that I saw while visiting the Grand Canyon.
This painting is created on canvas and covered in three layers of extra high gloss varnish.

14 x 11 - $175